Transfer Admission
Welcome to the USciences' transfer admission page! USciences' transfer admission team is available and ready to help you throughout your college selection process. We can't wait to introduce you to USciences. Here's some answers to frequently asked questions:
How does USciences define a 'transfer student'?
Anyone with one semester or more of college experience after high school graduation is considered a transfer student, and two types are admitted:
If you have or will have a bachelor's degree completed prior to admission at USciences, refer to the graduate admission page.
When do you accept transfer students?
For most of our programs, USciences accepts transfer students for both the fall and spring terms and offers rolling admission.
Which of my completed coursework will transfer?
An official transfer evaluation will be provided at the time of acceptance. Read more specific details on our credit evaluation process.
Do you have a transfer agreement with my school?
USciences has articulation and affiliation agreements with several schools. These formal agreements or partnerships outline the transfer policies for a specific academic program or degree. Transfer agreements make the transition easier for students by providing a checklist of what courses should be taken to satisfy degree requirements while attending a community college.
How much is tuition for transfer students?
USciences has lowered and fixed its tuition, so you will know the cost to earn your degree from day one. Transfer students who enroll into an undergraduate, BS program will not pay more than $25,000 per year in tuition and general fee. For those accepted into one of our accelerated, 6-year doctoral programs in Pharmacy, Occupational Therapy, or Physical Therapy, we've lowered and simplified the tuition. More information.
Can transfer students receive academic merit awards?
Students are automatically considered for an academic merit award at the time of admission. We have both merit and Phi Theta Kappa awards available. Awards are based on previous academic achievement and are renewable for the duration of the student's estimated time to achieve degree completion.
Can I make an appointment with an admission counselor and/or visit campus?
Counselors are available Monday through Friday between 9:00 a.m and 5:00 p.m. Weekday tours and information sessions are also available. Please call 888-996-8747 or email transfer@usciences.edu to connect or schedule a visit.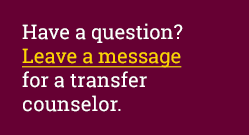 Address:
Admission Office
Griffith Hall, Room 130
600 South 43rd Street
Philadelphia, PA 19104-4495
Phone:
888-996-8747
Email:
---