Transfer Admission
Welcome to the USciences' transfer admission page! USciences' transfer admission team is available and ready to help you throughout your college selection process.
We can't wait to introduce you to USciences!
Here's a few things to know, to get you started:
USciences considers anyone with one semester or more of college experience after graduation from high school as a transfer student. Individuals with a bachelor's degree completed prior to admission at USciences should refer to the graduate admission page.
USciences' has two types of transfer students:

Traditional: Those students interested in one of our 4-year undergraduate degrees
Professional: Those students interested in either

USciences accepts transfer students for both the fall and spring terms and offers rolling admission.

USciences has articulation and affiliation agreements with community colleges and other institutions.
The Admission Office is your point of contact for USciences questions, concerns and of course, the admission process. We encourage you to contact us anytime, Monday - Friday between 9:00 a.m. - 5:00 p.m. EDT at 888-996-8747 or via email at transfer@usciences.edu
Want to chat with us face-to-face? Come visit us at:
Griffith Hall
Room 130
600 South 43rd Street
Philadelphia, PA 19104
Be sure to connect with us on Twitter, Facebook, Snapchat, and Instagram.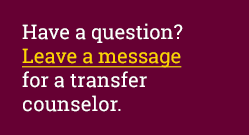 Address:
Admission Office
Griffith Hall, Room 130
600 South 43rd Street
Philadelphia, PA 19104-4495
Phone:
888-996-8747
Email:
---